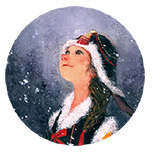 Stila Lim is Illustrator and Cartoonist who based in Seoul, South Korea.  
She studied Fine Art in Korea, and graduated Kingston University as Master of Communication Design. She worked with many companies including literary publisher, picture book publisher (UK), comic webzine and broadcasting company. The technique used is a mix of traditional drawings and digital paintings using Photoshop. 
Picture book with Floris (UK) / "Spin a Scarf of Sunshine"
Title Illustration of KBS Korean drama series / "웬 아이가 보았네"
Serial illustrations in Grafolio (NAVER corporation)/ "Missing all of London"
Scholastics Picture book Asian Award shortlist / "Let's try planting flowers!"
Kingston university MA course/ communication design